Food, Fun, and Art!
Come join us for the DSA & Cultural Arts District Downtown Strong events in 2023. The Downtown Strong event showcases some of the best art, food, and fun that Downtown San Angelo has to offer. Stop by the San Angelo Museum of Fine Arts and view their current exhibits, or visit one of the many art galleries for a sampling of West Texas art. Take a break and grab a bite to eat while you enjoy a cup of coffee, mug of beer, of a glass of wine at some of the best restaurants, bars, and coffee shops in West Texas. Top off the evening with a little shopping at Downtown's unique boutiques.
LIKE and FOLLOW our FACEBOOK page for updates:
https://www.facebook.com/sadowntownstrong
or call/email 325-655-2345 / info@dtsa.org
2023 DOWNTOWN STRONG STROLL DATES-Check back for details
FEBRUARY 16 Mardi Gras Masquerade
March 17 Shamrock & Roll
APRIL 28 Joy of Music
JUNE 29 American Celebration
OCTOBER 26 Spooktacular Halloween
DECEMBER 21 Sheep on the Shelf
Stroll guests receive a free ride on the Concho Valley Transit District trolley! Route begins at 5:15 pm at the San Angelo Museum of Fine Arts, 1 Love Street.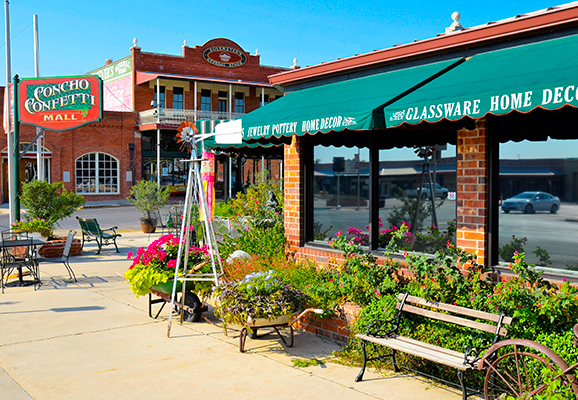 Schedule
March 17, 2023
5:00 - 8:00 PM

Downtown Strong Map
Click on the link below to download a map for the Downtown Strong Event. It is your guide to all of the participating galleries and businesses.
Merchants & Pubs
Old Central Firehouse Pizzeria & Taproom-200 S Magdalen: Our #stpatricksday "Just here for the Beer" ???? T-Shirts are available for only $15! Grab yours today and be sure to wear it on March 17th when you come to the firehouse for some green beer and a good time ???? ????
Cowboy Up Chocolates: 6 E. Concho - 10% off purchase and free samples of Irish Cream truffles!
Serenity's Casual Wear: 113 E Concho Ave. Suite 190 - Will be serving Treats & Punch and offering 15 % discount!
The House of FiFi DuBois:123 S Chadbourne St - ALL REQUEST DJ, NO COVER CHARGE, Drink specials all weekend long, Pooty o' Gold Shot specials, Corn beef & Cabbage bites
Fuentes Cafe Downtown: 101 S Chadbourne St. - All day special: Green enchiladas
Urban Salt Kitchen & Bar: 23 W Beauregard Ave. - We will feature a few dishes and drinks to coordinate with the theme available Friday 3/17 & Saturday 3/18 Food: Soft pretzels /w beer cheese  Bangers and mash with Jameson Demi gravy & cabbage  Guinness Chocolate Stout Cake Drinks: Irish coffee Irish maid -a cucumber &  lemon cocktail  Irish whiskey old fashioned Irish buck -Irish whiskey Moscow mule
Raw1899: 38 N Chadbourne St. - We will have happy hour 4-6 and bringing back our famous Pot of Gold frozè!  The art gallery is full of beautiful art from several artist!
The She Shack: 222 N Chadbourne St - guests have a chance to win a necklace set valued at $25!
Teacher Store: 310 N. Chadbourne - A fun store for everyone. Toys, games, puzzles & more for all ages. Not just for teachers!
Grigsby's Boutique: 59 N. Chadbourne - Green Beer & Shamrock Shakes! Spend $125 for a free gift with purchase!
Art Galleries
San Angelo Museum of Fine Arts - Quarter Master Gallery at Fort Concho - Burgess St. and E Ave.C - Exhibit opening reception/party: "Take a Closer Look: Orna Feinstein and Mckay Otto" The reception has a 1980s theme. Come support your 80s look!
Blue Buffalo Art Gallery:123 North Chadbourne - We will be showcasing 12 artist (Local and International artists). We are open Tuesday through Saturday! We will be open to the public on all Art Stroll events. New art on display every month. We will have complimentary wine for all visitors.
Concho Clay Studio: 1 Love St - Free clay activities! Try the potter's wheel and find out about our Spring ceramics classes. Take photos together in our St. Patty's themed photo booth! Enjoy free refreshments and enter a drawing to win a clay studio gift certificate!
San Angelo Performing Arts Center : 82 Gillis St -Check out the Artists for Artists gallery brought to you by Art in Uncommon Places, all month long! 100+ local artists, 170+ works of art! Everything on sale to benefit the artists and AIUP!