Food, Fun, and Art!
Come join us for the DSA & Cultural Arts District Downtown Strong events in 2021. The Downtown Strong event showcases some of the best art, food, and fun that Downtown San Angelo has to offer. Stop by the San Angelo Museum of Fine Arts and view their current exhibits, or visit one of the many art galleries for a sampling of West Texas art. Take a break and grab a bite to eat while you enjoy a cup of coffee, mug of beer, of a glass of wine at some of the best restaurants, bars, and coffee shops in West Texas. Top off the evening with a little shopping at Downtown's unique boutiques.
LIKE and FOLLOW our FACEBOOK page for updates:
https://www.facebook.com/sadowntownstrong
or call/email 325-655-2345 / info@dtsa.org
NEXT EVENT: DOWNTOWN STRONG STROLL Holly Jolly Christmas | December 16, 2021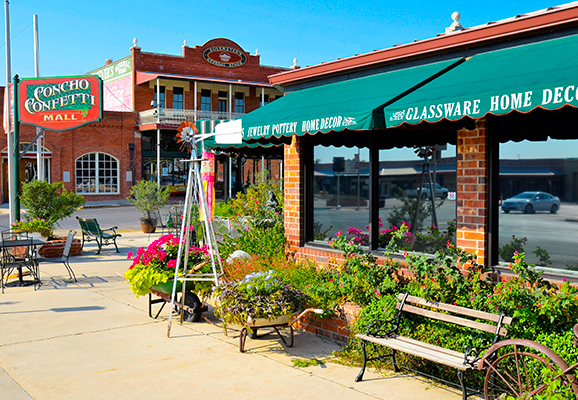 Schedule
December 16
5:00 - 8:00 PM

Downtown Strong Map
Click on the link below to download a map for the Downtown Strong Event. It is your guide to all of the participating galleries and businesses.
Merchants & Pubs
San Angelo Studios @ 12 E Twohig Ave: Come celebrate with us! Kids welcome. Santa will be joining our festivities!!
Art Galleries
Ruiz Studio & Art Gallery @ 76 N Chadbourne St.: browse one of a kind holiday gifts such as bronze sculptures, western landscape paintings, and jewelry!
Miracle on Oakes Exhibit @Gallery Verde, 417 S. Oakes St.: See paintings from EnPleinAirTexas 2021, also their will be a variety of works from local artists on display. Open and Free to the public!
Plateau Brewery & Southern Smoke BBQ @ Studio Rio, 423 S Oakes St.: Food and Drinks available. Purchase a ticket ahead of time or pay for a plate at the event. Visit samfa.org to purchase tickets.
Christmas at the Coop @ Coop Gallery, 427 S Oakes St.: Exhibit will be open, Christmas Movies projected, Pics with Santa, Art Activity, Concho Clay Activity
SAMFA Staff Show @ Gas Station, 433 S Oakes St.: The very talented staff of the Art Museum are having a show. Join us and support local artists and shop for holiday gifts.
San Angelo Museum of Fine Arts, 1 Love St.: Exhibits and gift shop will be open. Exhibits on display are: A Glimpse of Glory: Works by Sedrick & Letitia Huckaby And Majesty and Tenderness: The Art of Maurice Schmidt