Food, Fun, and Art!
Come join us for the DSA & Cultural Arts District Downtown Strong events in 2023. The Downtown Strong event showcases some of the best art, food, and fun that Downtown San Angelo has to offer. Stop by the San Angelo Museum of Fine Arts and view their current exhibits, or visit one of the many art galleries for a sampling of West Texas art. Take a break and grab a bite to eat while you enjoy a cup of coffee, mug of beer, of a glass of wine at some of the best restaurants, bars, and coffee shops in West Texas. Top off the evening with a little shopping at Downtown's unique boutiques.
LIKE and FOLLOW our FACEBOOK page for updates:
https://www.facebook.com/sadowntownstrong
or call/email 325-655-2345 / info@dtsa.org
2023 DOWNTOWN STRONG STROLL DATES-Check back for details
FEBRUARY 16 Mardi Gras Masquerade
March 17 Shamrock & Roll
APRIL 28 Joy of Music
JUNE 29 American Celebration
OCTOBER 26 Spooktacular Halloween
DECEMBER 21 Sheep on the Shelf
Stroll guests receive a free ride on the Concho Valley Transit District trolley! Route begins at 5:15 pm at the San Angelo Museum of Fine Arts, 1 Love Street.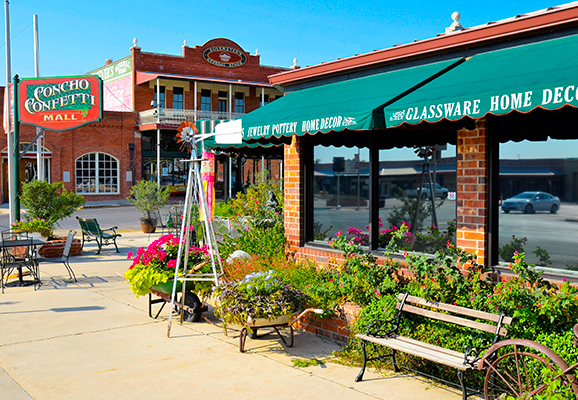 Schedule
June 29, 2023
5:00 - 8:00 PM

Downtown Strong Map
Click on the link below to download a map for the Downtown Strong Event. It is your guide to all of the participating galleries and businesses.
Merchants & Pubs
Myers Boutique: 29 S Chadbourne St: Drinks and Sandal Sale! 30% OFF
Serenity's Casual Wear: 113 E Concho Ave, Suite 190: 35% off discounts, free giveaway, treats & drinks!
Casa Decor: 39 W Concho Ave: come see the new back patio and walk through the delightful variety of rustic and custom furniture, Talavera ceramics, clay pots, canvas prints, metal artwork, and our durable Breezesta and Hanamint outdoor furniture. Most of our wooden furniture and home accessories are handmade, hand painted, and entirely unique. Live music will be provided by Justin Cartwright and the Hagglers. We will offer complimentary beverages and snacks during the Downtown Stroll and have a door prize given away at 9pm!
Wandering Mind Brewery (+ Fredia's Sweets & Meats BBQ Truck): Old Masonic Lodge / 130 S Oakes St: Celebrity Chef Freida BBQ Truck, $1 off Beer Flights, Free sticker!
Art Galleries
Fort Concho National Historic Landmark: Barracks 6, Burgess & Flipper Streets: Western Art Show including 50 paintings for show and sale! Enjoy free light refreshments.