Food, Fun, and Art!
Come join us for the DSA & Cultural Arts District Downtown Strong events in 2022. The Downtown Strong event showcases some of the best art, food, and fun that Downtown San Angelo has to offer. Stop by the San Angelo Museum of Fine Arts and view their current exhibits, or visit one of the many art galleries for a sampling of West Texas art. Take a break and grab a bite to eat while you enjoy a cup of coffee, mug of beer, of a glass of wine at some of the best restaurants, bars, and coffee shops in West Texas. Top off the evening with a little shopping at Downtown's unique boutiques.
LIKE and FOLLOW our FACEBOOK page for updates:
https://www.facebook.com/sadowntownstrong
or call/email 325-655-2345 / info@dtsa.org
2022 DOWNTOWN STRONG STROLL DATES-Check back for details
* February 10
* March 17
* April 8
* June 30
* October 27 – Halloween Festival
* December 15
Stroll guests receive a free ride on the Concho Valley Transit District trolley! Route begins at 5:30 pm at the San Angelo Museum of Fine Arts, 1 Love Street.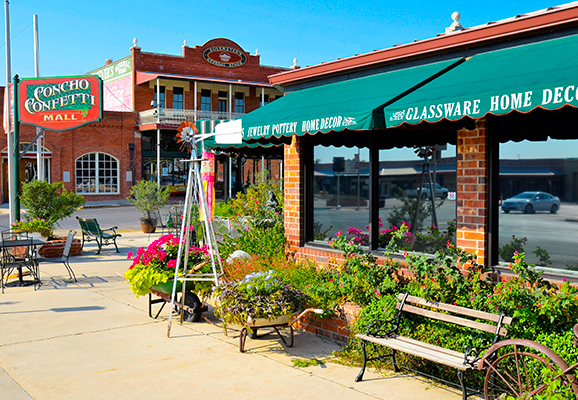 Schedule
December 15, 2022
5:00 - 8:00 PM

Downtown Strong Map
Click on the link below to download a map for the Downtown Strong Event. It is your guide to all of the participating galleries and businesses.
Merchants & Pubs
Carter's Sugar Shop- 28 N. Chadbourne St: Enjoy treats while shopping several pop-up shops!
The She Shack- 31 E Twohig Ave: We will be giving out cookies & hot cocoa
Casa Décor- 39 West Concho Ave: Come out and join us for an evening on our patio and walk through the delightful variety of rustic and custom furniture, Talavera ceramics, clay prints, metal artwork, and our durable Breezesta and Hanamint outdoor furniture. Most of our wooden furiniture and home accessories are handmade, hand painted, and entirely unique. Live music will be provided by Justin Cartwright. We will offer complimentary beverages and snacks during the Downtown Stroll and have a door prize given away at 9 PM!
The Grind Coffee & Café- 220A N. Chadbourne St.: Free hot chocolate, raffle for food or drink item.
Texas Angels Boutique- 113 E Concho Ave STE 130: Every purchase from 5-8pm will be entered into a drawing for a chance to win a $50 Value Christmas gift basket! Sip & Shop with free margaritas! 20% off regular price items along with other storewide sales during the stroll
Cowboy-UP Chocolates, 6 E Concho Ave: 10% off purchases and truffle samples!
Art Galleries
San Angelo Museum of Fine Arts- Main Museum (1 Love St.): Exhibits open- Umlauf and His Influence & Spanish Colonial Treasures
Concho Clay Studio- 1 Love St. in SAMFA's Breezeway: Concho Clay Christmas Sale in the Concho Clay Studio Purchase handmade pottery and clay sculptures made by local artists, clay studio students and staff. A portion of proceeds will benefit the clay studio's visiting artist workshop program. Enjoy a free hot cocoa bar and cookies sponsored by Helen's Bistro and Bakery. Silent Night Auction in SAMFA's Meeting Room Bid on fantastic ceramic art created by visiting artists, clay studio staff, and artists featured in the SAMFA collection. Proceeds benefit the adult education programs at the clay studio. Enjoy refreshments from our sponsors Fuentes Café, HEB, and Halfmann's Cake Cottage.
SAMFA: Coop Gallery- 427 S. Oakes St.: Christmas at the Coop- Pictures with Santa, art activties, hot cocoa and treats, seeks and find, candy cane lane photo opportunity, and a mini art show.
SAMFA: Studio Rio- 423 S. Oakes St.: Un Desmadre- An art exhibit of 5 local artists. Works include mediums in acrylic, oil, and sculptural pieces.
SAMFA: Gallery Verde- 417 S. Oakes St.: EnPleinAirTEXAS Round Two Exhibit- Artwork from our 2022 EnPleinAirTEXAS artists. If you weren't able to snag a West Texas painting during the STAMPEDE event in October, now is your chance. All works available for purchase.
Blue Buffalo Art Gallery- 123 N. Chadbourne St.: Come check out the latest and greatest art gallery in Downtown! Art exhibits by various local artists, wine, cheese & crackers, Paint on the Cumulative Community Painting to be raffled on Dec. 31st!
Ruiz Studio & Art Gallery- 418 S. Oakes St.- Wine and Western Art