Food, Fun, and Art!
Come join us for the DSA & Cultural Arts District Downtown Strong events in 2022. The Downtown Strong event showcases some of the best art, food, and fun that Downtown San Angelo has to offer. Stop by the San Angelo Museum of Fine Arts and view their current exhibits, or visit one of the many art galleries for a sampling of West Texas art. Take a break and grab a bite to eat while you enjoy a cup of coffee, mug of beer, of a glass of wine at some of the best restaurants, bars, and coffee shops in West Texas. Top off the evening with a little shopping at Downtown's unique boutiques.
LIKE and FOLLOW our FACEBOOK page for updates:
https://www.facebook.com/sadowntownstrong
or call/email 325-655-2345 / info@dtsa.org
2022 DOWNTOWN STRONG STROLL DATES-Check back for details
* February 10
* March 17
* April 8
* June 30
* October 27
* December 15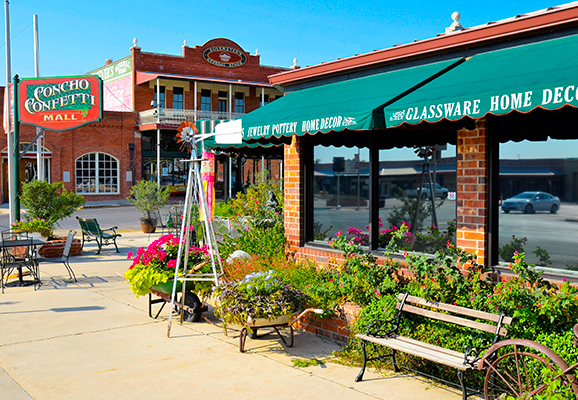 Schedule
June 30, 2022
5:00 - 8:00 PM

Downtown Strong Map
Click on the link below to download a map for the Downtown Strong Event. It is your guide to all of the participating galleries and businesses.
Merchants & Pubs
Serenity's Casual Wear, 113 E Concho Ave: Serving treats and special discounts!
Old Central Firehouse Pizzeria & Taproom, 200 S Magdalen: Tattoos for the kids, live music, and scratch off tickets for prizes!
The She Shack, 31 W Twohig Ave: Cookies and a wide array of jewelry for summer shopping!
Art Galleries
Raw1899, 38 N Chadbourne St.: hosting special guest artist BOBBY WHITLOCK.Around April of 2018 Bobby took up painting because he felt compelled to do it. Since that day he has painted over 1800 works. Being a very creative soul, Bobby can't help finding new ways of expressing himself. He called his art "Post Modern Expression" without realizing that there was such a thing, and found that he was in good company. If anyone could paint how they feel, it is Bobby. He has managed to tap into that inner something that expresses on canvas what he is feeling. With that inner impulse as his guide, Bobby Whitlock is again making his mark, this time with a paintbrush. Bobby Whitlock made his mark in the music world back in the early 1970's in a band co-founded with Eric Clapton called Derek & The Dominos. He was co-writer to many of the songs that appeared on "Layla and Other Assorted Love Songs" including "Bell Bottom Blues", "Why Does Love Got to Be So Sad", "Anyday", "Keep on Growing", "Tell the Truth", "I Looked Away", and "Thorn Tree in the Garden". Bobby has played an integral part in music history not only for his involvement on Layla and Other Assorted Love Songs, but other major records that include George Harrison's seminal solo recording "All things Must Pass", The Rolling Stones "Exile on Main Street", Buddy Guy's Sweet Tea along with several Delaney & Bonnie records to name a few. Bobby has written songs that were recorded by other legendary artists including Lady GaGa, Ray Charles, Tom Jones, George Jones, Cher and The Rolling Stones (uncredited). Tedeschi Trucks, Sheryl Crow and many more.
Concho Clay Studio, 1 Love St: Clay With Us! Drop by during Downtown Stroll for a free clay experience at the Concho Clay Studio. Watch pottery demonstrations, enjoy refreshments and find out about our classes and workshops for adults. The Concho Clay Studio is owned and operated by the San Angelo Museum of Fine Arts and partners with Howard College to offer courses in ceramics to the community. Our entrance is located to the left of the main museum in the breezeway.
The Tom Green County Library, 33 W Beauregard Ave: Join us for an evening of fun for all ages. 6- Horatio's Drive America's First Road Trip, 6:30-8 Socrates Cafe, 6-8 Watermelon Craft
Creative 101, 427 S Oakes St: "Stolen Art" -Exploring the concepts of copywrite and fair use.
The Monk Art Gallery and Wine Bar, 118 S Chadbourne St : Live music! Door prize raffle giveaway, snacks and drinks.